Pyrimidine Catabolism
Pyrimidine Catabolism

Pyrimidine Catabolism pt 1
In contrast to purines, pyrimidines undergo ring cleavage and the usual end products of catabolism are beta-amino acids plus ammonia and carbon dioxide. Pyrimidines from nucleic acids or the energy pool are acted upon by nucleotidases and pyrimidine nucleoside phosphorylase to yield the free bases. The 4-amino group of both cytosine and 5-methyl cytosine is released as ammonia.
Ring Cleavage
In order for the rings to be cleaved, they must first be reduced by NADPH. Atoms 2 and 3 of both rings are released as ammonia and carbon dioxide. The rest of the ring is left as a beta-amino acid. Beta-amino isobutyrate from thymine or 5-methyl cytosine is largely excreted. Beta-alanine from cytosine or uracil may either be excreted or incorporated into the brain and muscle dipeptides, carnosine (his-beta-ala) or anserine (methyl his-beta-ala).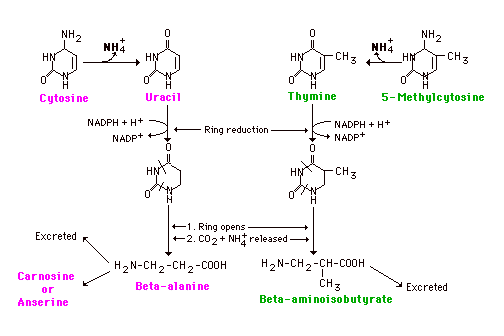 General Comments
Pyrimidine Catabolism pt 2
Purine and pyrimidine bases which are not degraded are recycled - i.e. reincorporated into nucleotides. This recycling, however, is not sufficient to meet total body requirements and so some de novo synthesis is essential. There are definite tissue differences in the ability to carry out de novo synthesis. De novo synthesis of purines is most active in liver. Non-hepatic tissues generally have limited or even no de novo synthesis. Pyrimidine synthesis occurs in a variety of tissues. For purines, especially, non-hepatic tissues rely heavily on preformed bases - those salvaged from their own intracellular turnover supplemented by bases synthesized in the liver and delivered to tissues via the blood.
"Salvage" of purines is reasonable in most cells because xanthine oxidase, the key enzyme in taking the purines all of the way to uric acid, is significantly active only in liver and intestine. The bases generated by turnover in non-hepatic tissues are not readily degraded to uric acid in those tissues and, therefore, are available for salvage. The liver probably does less salvage but is very active in de novo synthesis - not so much for itself but to help supply the peripheral tissues.
De novo synthesis of both purine and pyrimidine nucleotides occurs from readily available components.
Reprint Permission Given to Gout-Aware All Articles written & supplied by
Dr Carol .N. Angsatdt Ph.D Department of Biomedical Sciences Allegheny University of Health Sciences
Purine Metabolism
Pyrimidine Catabolism
information about fitness and healtcare. Daily Updated News and Reports about Fitness and HealthCare. Also featuring Products from Companies in Health Care, Weightloss and Body Fitness. http://fitness.pacificherald.com