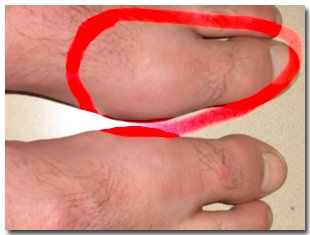 The Gout Aware Story
The gout Aware Story - a Journey into Gout affliction, gout treatments, and gout remedies

I thought I would write up the Gout Aware story of my experiences and Gout symptoms to compare to your own Gout experience and seek any possible Gout remedies or solutions from this short story.

My Gout aware story begins 25 years ago, with my working life involved around the Television industry as a producer, executive producer and co-ordinating producer specializing in the field of Sporting television. I have run a variety of sporting shows and worked on many Commonwealth and Olympic Games both Summer and Winter.

During this time part of my job was to wine and dine potential sponsors,and take various sporting identities out for lunch or for Dinner and also just have fun.
So lunch became a huge part of my lifestyle, plenty of rich food and very nice wines.
Im not complaining it was a great period of my life but also a period where I went from a skinny boy into an overweight man.
7 years of constant feeding my body with daily feasts took its toll.
The beginning of the Gout Aware story now turns up. In my early 30's I woke up one morning with a pain in my right big toe.
It was swollen and felt like I had broken my foot in my sleep ( the first Gout pain experienced the Gout Aware Story ). I couldnt walk, the heat and pain was terrible.
The old saying that a sheet resting on your gout afflicted foot in bed can give a person severe pain or make you cry was true..The GOUT PAIN the Gout Aware story.. Just a single sheet or anything touching my foot killed me.
I have had broken bones, accidents from Surfing and Martial Arts, bad Skiing injuries and
knee reconstructions, but this was a new pain for me to experience. A really bad pain to experience.

I hate to admit it but I was reduced to tears. Lots of Tears.
My gout symptoms were plentiful, the color of the gout affected area was red and purple, when pressed it went white.
The swelling would start out under the toe then move to the top and towards my arch of my foot.
The heat from my foot was tremendous, then the body chills would set in for a few minutes then go again.
The pain was a constant throbbing, and like all cuts or wounds I would always seem to bump it or drop something on my foot, and the gout would seem to travel around different areas in the foot over a few days.
This Gout aware story lasted for a week, 2 days of not walking and 3 days of limping and the use of a cane.
Then there was a niggling pain for another week when walking. Like something was in my foot but deep in my foot and heel.
I felt very sorry for myself indeed.
Then it all disappeared and didn't rear its ugly head for a year.. what a nice year that was, because I still did not know what Gout was and what it can do. I also did not know it was actually Gout, I thought it was some sort of infection or I had stuffed my foot doing some sort of exercise. (I hoped this was the end of the Gout aware story)
I did not go to the doctor because I thought that was the end of the pain, and I was too young to get gout...gee was I wrong.
Well life went on again as normal, rich food and lots of red wine and beer.
Gout aware story pt 2: It came back after a particularity long night on red wine.
I could see swelling on my shin, the area had heat but no pain. I could actually press my finger into the shin and the dent would stay there for 5 minutes. Yuk what was this.
This time I went to the doctor, he just said it is Gout, you shouldn't get gout at your age, here have some indocid pills and on your way.
Well I took the pills and the swelling went away again, and like all things that have affected you in some way you seem to forget them fast. ( obviously if it is life threatening then this is a different story ) I treated this like a stubbed toe... easily forgotten.
But this time the Gouty beast didnt go away for a year, it came back with a vengeance a month later. The Gout symptoms were really bad.
This time one foot was affected , then it would actually get better in a day or so and then appear in the other foot.
And the pain was disgusting.
So off again limping to the Doctor, he didn't say hey your diet is bad you need t change it , he didn't say I should cut out drinking alcohol, he just said, here take this indocid, this time I said is there anything else I can take and fix this , he then gave me


two containers of pills ( not named ) and said if you take these you will never get gout again.
I asked what these miracle pills did and he stated that they will limit the amount of Uric acid my body will produce , hence I wont get gout any more.
I was happy with this instant solution until my wife spoke up ( she is a psychologist and knows her chemicals) she asked if there are any side effects from these pills long term, the doctor said I don't think so , my wife then asked can you check your book ( I didn't know this but most doctors have a book somewhere in their office that has what the effects of certain medicines are ).
Anyway he checked and said "oh " then read out:
style="font-weight: bold; font-family: Book Antiqua; text-align: left;">Loss of hair
style="font-weight: bold; font-family: Book Antiqua; text-align: left;">Hollowness of bone growth
style="font-weight: bold; font-family: Book Antiqua; text-align: left;">and some kidney effects....
Hmm sounds bad so far?.
So we took these little pills home and I rang my brother who researched the Gout remedy pills on the internet and found about 20 other problems from side effects from long term use.
I dont take these pills and never have. Im not going to be a guinea pig. This is when I changed doctors and discovered more about gout by starting to study it.
My new doctor told me of links to heart failure, sleep apnea, kidney disease etc etc .
And to change my diet, which I have done.
I still get gout, though I can manage it much better these days and occasionally I have resorted to Indocid, but as I learn more of Apple Cider Vinegar, and Baking Soda and drinking lots of water and keeping my weight down and lowering the intake of foods and drinks full of purines my lifestyle and Gout have changed. Now over time my Gout symptoms have moved into my heels and arches and achilles heel. It always moves now to a different spot which is strange.There are always new treatments for Gout to try, from Herbs to Cherries to natural products, keep seeking what works best for you.
I use all of the above and they work for me and they are cheap. So that is my Gout Aware story. No need to list what happened in every Gout attack I have had and there have been dozens. I just wrote about the first few as they stick on my memory the most.
I hope you look through the Gout Aware website and Blog, because as I learn more about Gout and its remedies and Gout Symptoms I am aware of how to combat this painful beast.
Be aware be Gout Aware.
Regards
Peter
Have A Great Story About your Gout and how you treat it?
Do you have a great story about this? Share it!
Feel free to write about your Gout suffering and how you manage your Gout attacks.
This is a learning curve for all of us, so the more personal experiences the better for all of us to understand this affliction.
What Other Visitors Have Said
Click below to see contributions from other visitors to this page...

The Gout Aware Story