Baking Soda and Gout

Baking Soda and Gout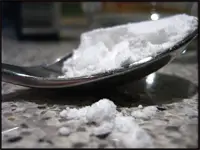 Baking Soda and Gout can be a dangerous combination

To start to use Baking soda as a remedy or quick fix for a gout attack you MUST get a doctors approval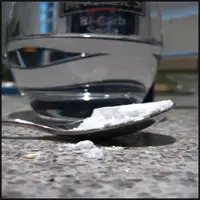 This can be a dangerous gout symptom relief if one is not sure of their health status and the ramifications of taking Baking Soda...YOU MUST and I stress Must seek medical advice first before going ahead and taking this Gout relief medication.
Baking soda is an alkalising agent, which can change your bloods acidity within a few hours, hence it will affect the uric acid in the body and also hopefully aid in flushing the uric acid out of the body via the kidneys.

The general rule of using Baking Soda is:

Half a flat teaspoon of baking soda in a glass of water before going to sleep and first thing when one gets up in the morning.
Then 2 more times during the day an hour either side of lunch and then again at night. Maximum is 4 teaspoons a day.
Baking Soda can raise the Blood pressure of a sufferer and also their salt levels. So if you suffer from any type of blood pressure problems then you should not even consider this form of gout treatment.
Make sure you reduce salt intake when using Baking Soda for Gout.
I have personally tested the ph level of my urine during a Gout attack and found the Ph level to be extremely low.
I have then taken Baking Soda and alkalized my system , much to my relief the Gout slowly disappeared over 2 days and my Ph went to about 7 which is rated as neutral.
Baking Soda increases the blood and body fluids Ph levels which then makes Uric acid more soluble, which in turn makes it easier to flush out of the kidneys.
Baking soda also helps NSAID's ionize better in the blood and are therefore less flushed out of the Kidneys, but note what is coming next.

The Dangers of Baking Soda and Gout:

A teaspoon of Baking Soda contains between 1100 and 1300 mg of Sodium.
That is a large amount , sodium is required by the body for regulation of blood and body fluids , the transmission of nerve impulses, metabolic functions, and heart activity. But if taken in large amounts it can have devastating effects.
Sodium is a caustic poison, a person taking baking soda must reduce their salt intake.

If you suffer from medical problems such as liver or kidney diseases, intestinal bleeding , heart disease, hypertension, have problems urinating, or have toxemia of pregnancy ( a type of high blood pressure during pregnancy ) then stop taking the Baking soda immediately.


There are also side effects from Baking Soda:

Urge to urinate
loss of appetite
headaches
mood changes
muscle pain and twitches
weakness
tiredness
nausea and vomiting

So make sure you check with your Doctor / Health practitioner first before commencing this quick fix remedy for Gout.


Do you have a story you would like to add about Baking Soda?
Do you have a great story about this? Share it!
In recent times Baking Soda has been used more and more in combating Gout and Gouty symptoms.
If you want to have a say on Baking Soda and its potential healing properties or dangers then feel free to add your comments please.
What Other Visitors Have Said
Click below to see contributions from other visitors to this page...